Mary Berry has stirred up yet another culinary controversy, this time over a simple pie.
The former Great British Bake Off judge had previously taken some stick on social media for using white wine, thyme, cream and an oven to create her version of spaghetti bolognese in Mary Berry Everyday.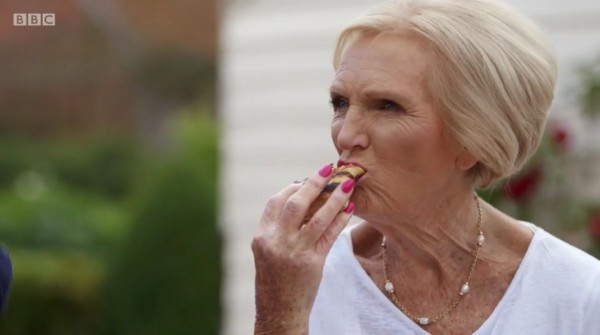 Mary Berry (BBC iPlayer grab)
Now the 81-year-old's hearty potato, leek and cheese pie is at the centre of a new storm, with viewers insisting it was a "casserole with a lid" because it did not have a pastry base.
That's a pastry lid – not a pie. You're going to give Twitter a meltdown. Disgraceful. #maryberryeveryday

— Cookie (@nicholascook) March 20, 2017
Sorry Mary, but it's not really a pie if there's no pastry base #maryberryeveryday

— John-Paul Buck (@JohnBuckjp) March 20, 2017
Oh Mary you didn't…A PIE WITHOUT A BASE IS A LIE #maryberryeveryday pic.twitter.com/UzQBUqqt70

— Matt Flye (@MattFlye) March 20, 2017
That isn't a pie. It has no base. That's just a lid. Disapointed. Would still eat it though.#maryberryeveryday

— Wee Red Bird (@WeeRedBird) March 20, 2017
Mary's sticky toffee pudding did not escape unscathed on Monday night's show, with viewers expressing their disappointment that it did not contain dates.
It's not sticky toffee pudding. If it don't have dates! #maryberryeveryday

— Rupert (@rupii5) March 20, 2017
Why are there no dates in this #maryberryeveryday sticky toffee pudding? This is madness I tell you, madness! pic.twitter.com/rM3H83klrX

— GlynjaminBluskies (@glynellishughes) March 20, 2017
Mary's recipes on the BBC programme have been a talking point each week.
As well as "bolognese-gate", the 81-year-old surprised viewers by stirring garlic into her pizza dough last week, while admitting that she had never had a pizza delivered to her home.