The yellow trend is big at the moment. Whether it's been inspired by Belle's dress from Beauty and the Beast or Emma's Stone in La La Land, red carpets have seen their fair share of yellow gowns this season. And now Queen Letizia of Spain has stepped out in a stunning yellow ensemble during the first outing of her state visit to the UK.
Dubbed Spain's answer to the Duchess of Cambridge (she rivals Kate in the style department) Queen Letizia was joined by her husband King Felipe VI to meet the Duke of Edinburgh and the Queen at Horse Guards Parade, marking the start of the three-day stay.
Letizia looked elegant as always in a minimalist lemon jacket and yellow dress with lace trim. She accessorised with a brighter yellow hat, lemon clutch, yellow gloves and nude Prada heels – very K Middy.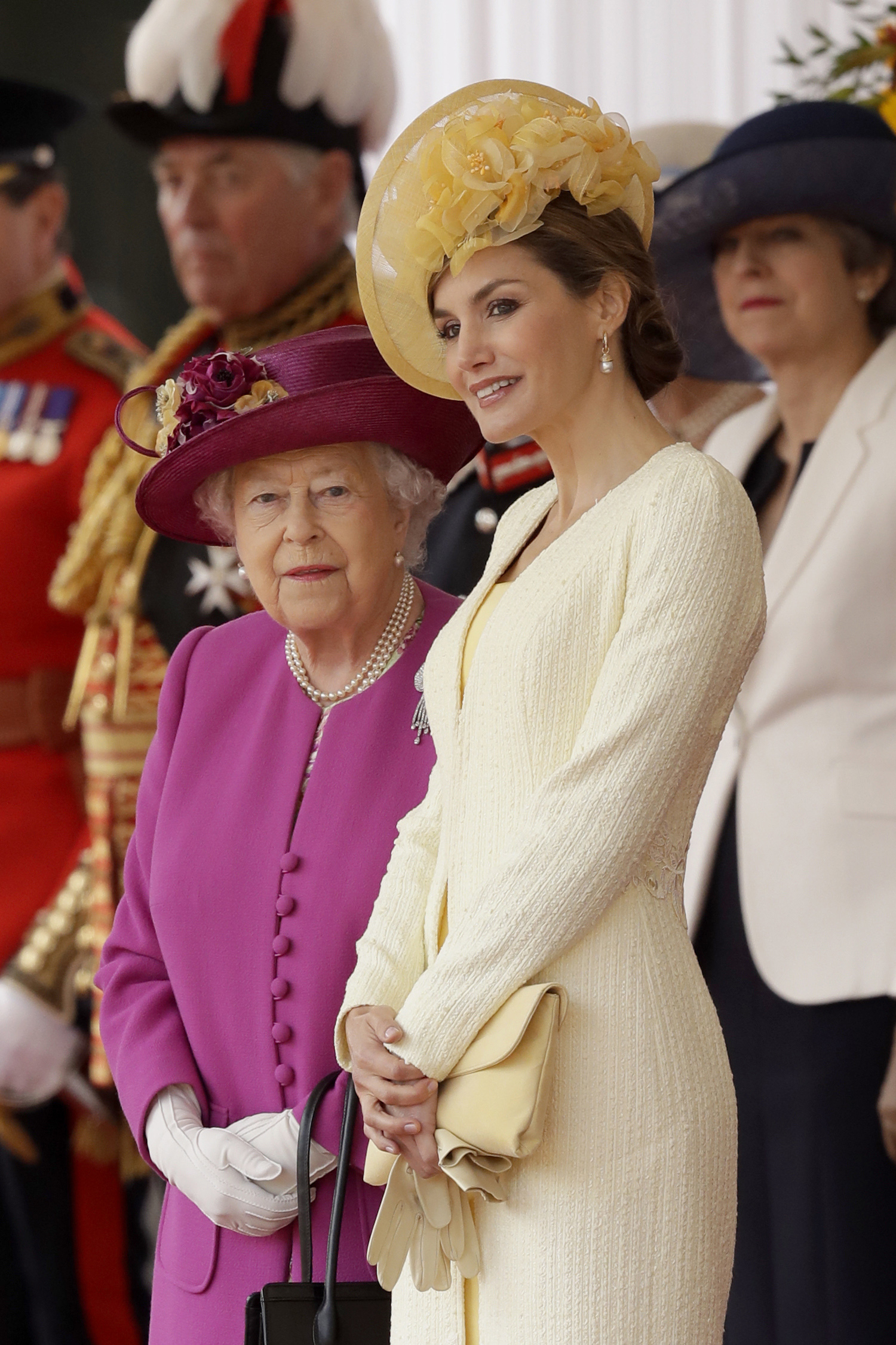 Both queens went for bold colour choices (Matt Dunham/AP)
While we can all agree the 44-year-old looks breathtaking, just how easy is it to pull of head-to-toe yellow?
Cliff Bashforth, managing director of Colour Me Beautiful, says: "Queen Letizia looked resplendent in sunshine yellow. Her deep colouring work wonders with yellows – from light to dark – in contrast with dark hair and dark eyes."
While some women shy away from such a bold colour choice, Cliff says most people can actually wear yellow.
"The only women who will be challenged by wearing yellow are those with salt and pepper, grey and white hair. If that's you, and you want a dash of yellow in your outfit, use a print (a bit of yellow with grey is very chic, while yellow with blues is a splash of sunshine)," he says.
"Just make sure to avoid yellow on the part of your body you do not want to attract attention to." After all, we don't all look like Queen Letizia.
Apparently most people can pull off yellow, even if we think we can't (Yui Mok/AP)
Meanwhile, freelance stylist Amy Neill says: "If you're going to do head-to-toe yellow, the trick is to keep it understated and the tones muted, like Queen Letizia has.
"Never accessorise with black when wearing yellow as you'll end up looking like a bee – the key is muted tones. Queen Letizia has accessorised minimally which works and the shoes are muted, so they don't contrast."
But different yellows suit different skin tones.
"Never wear neon yellow if you have pale skin, go for mustard, which works especially well on redheads. Olive-skinned brunettes should try bright yellows. And dark skin can pull off any yellow," Amy says.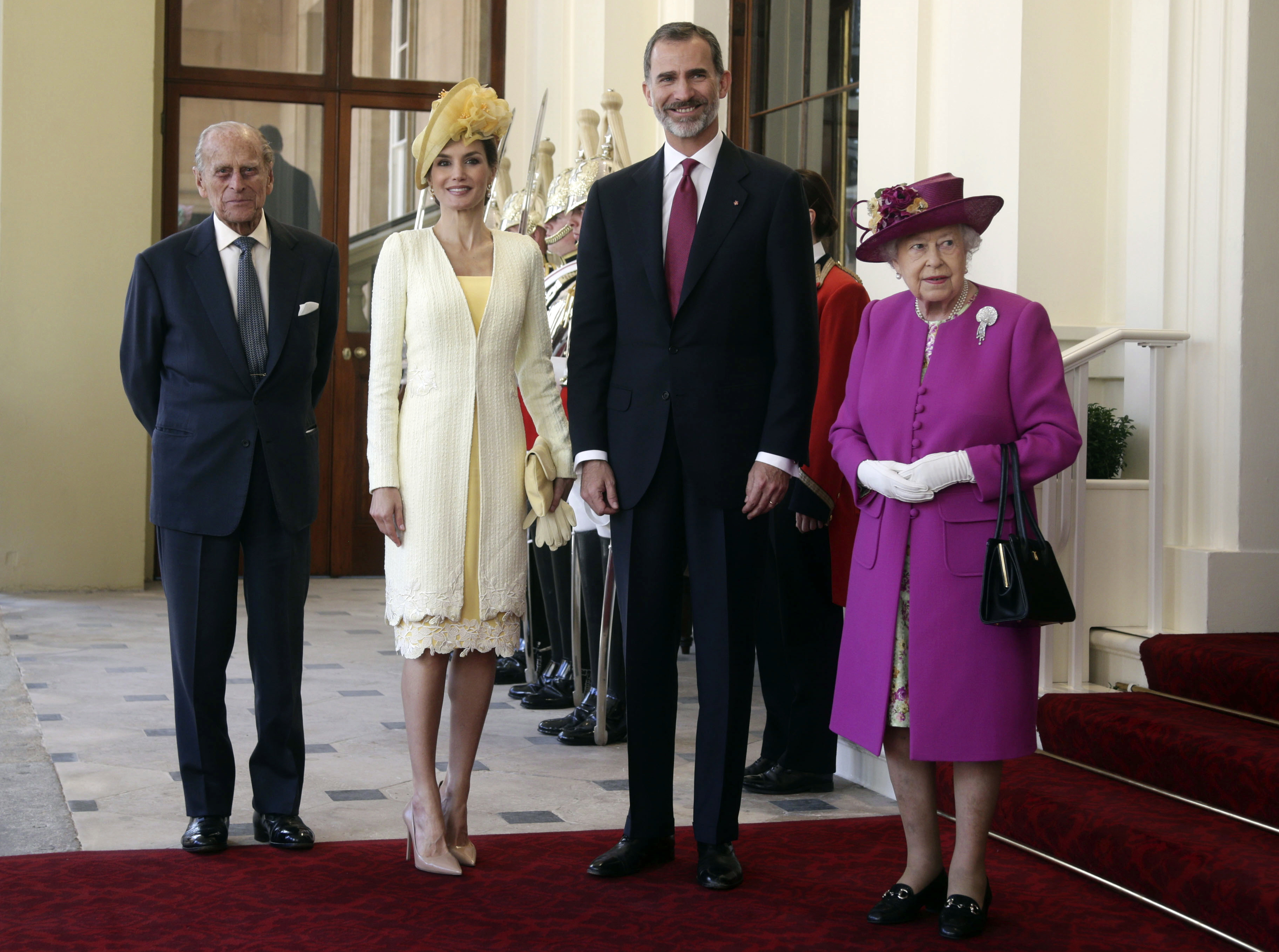 Spain's King Felipe and his wife Queen Letizia between the Queen and Prince Philip (Yui Mok/AP)
Queen Letizia will dine at a Buckingham Palace state banquet during the visit, with Prince Harry and the Duke and Duchess of Cambridge, so we could see a style-off between Kate and Letizia. Rumour has it the pair both love Zara, but we have a feeling they might dress to impress in their favourite designers. Letizia is often seen in Felipe Varela. Watch this space.