Volunteers who helped in the aftermath of numerous terror attacks and the Grenfell Tower fire have been thanked for their "utterly tireless efforts" by the Prince of Wales.
Charles told British Red Cross (BRC) volunteers and staff that they were owed an "immense and continuing debt of gratitude" as he thanked them for their work over the last six months.
2017 saw an alarming spate of terror attacks, with incidents at Westminster Bridge, London Bridge, Finsbury Park and Manchester Arena.
Prince Charles was speaking at a reception for British Red Cross volunteers (John Stillwell/PA)
These, combined with the deadly fire at Grenfell Tower, prompted one of the largest responses in the BRC's history.
Charles, who is president of the organisation, spent more than an hour greeting each of the 150 guests individually and shaking their hands at reception at St James's Palace.
Addressing the 150 guests, he said: "I was deeply keen to host this particular event, really to thank you all, and I know it's rather inadequately, for your utterly tireless efforts helping those affected by all these terrible tragedies in Manchester, London and the Grenfell Tower fire.
"These heart-breaking events brought the people of Britain together in a shared grief, but also a shared determination to help those affected."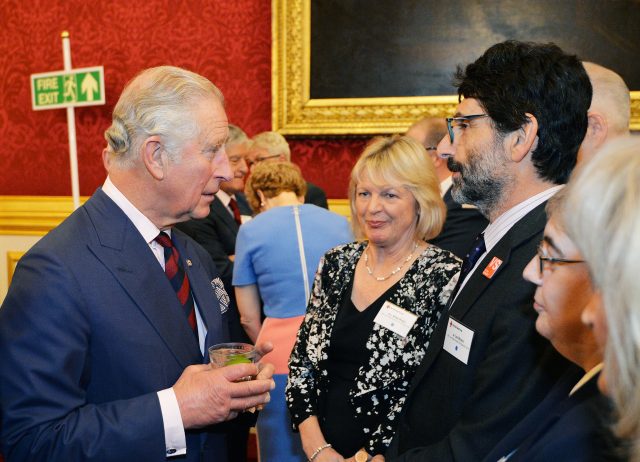 The Prince of Wales talks to guests at a reception for British Red Cross volunteers at St James's Palace (John Stillwell/PA)
The prince went on: "You, ladies and gentlemen, so many of you, were there at the frontline helping people from the very beginning, and I know that you will be there to support communities as they start to rebuild together.
"I also know that this is hugely appreciated by all who have been helped, so we owe all of you an immense and continuing debt of gratitude."
Charles thanked everybody gathered for their "true compassion", adding: "You can have no idea how proud I am, for what it's worth, of the way you have helped those in crises".
He said: "None of this would have been possible without the utter dedication of British Red Cross volunteers, staff and supporters.
"So please just know ladies and gentlemen, that in my book, you are very much part of the Not Forgotten Association, and above all, that I'm only too aware you will continue to keep up your vital work of care and compassion."
The prince left the room to cheers and applause.