David Moyes insists he is comfortable with his initial six-month contract at West Ham.
The former Everton and Sunderland boss was confirmed as the new Hammers manager on Tuesday morning, less than 24 hours after Slaven Bilic was sacked.
The priority for joint-chairmen David Sullivan and David Gold is simple – to climb away from relegation trouble – and Moyes' future will then be evaluated at the end of the season.
Moyes told talkSPORT: "We've done a contract which suits both parties, we are all comfortable with it.
"Let's get the job done and then talk at the end of the year."
Moyes' appointment has not gone down well with sections of the West Ham fans, mindful that his previous job saw Sunderland relegated last season.
The 54-year-old Scot also endured disappointing spells with Manchester United and Real Sociedad.
West Ham United can confirm the appointment of David Moyes as the Club's manager. pic.twitter.com/AIOWnHWn27

— West Ham United (@WestHamUtd) November 7, 2017
Yet his successful 11-year stint at Everton has persuaded Sullivan and Gold that Moyes is the man to turn their season around.
"I'm thrilled to be back in the game and looking forward to getting started," added Moyes.
"The job is to get wins and get ourselves up the league.
"I'm a football supporter, everyone has opinions, and everyone is entitled to that. But I think my record stands up against most.
"I would like to welcome David to West Ham United" – Joint-Chairman David Sullivanhttps://t.co/02oKez5suf

— West Ham United (@WestHamUtd) November 7, 2017
"I've managed five clubs and only the recent one was the wrong choice by me.
"Hopefully I can show what I'm really about. I've probably got one of the best win records in the Premier League. The job now is to win games."
Former Hammers defender Stuart Pearce has been linked with a coaching role at the club, as has Moyes' number two at Everton, Alan Irvine.
Moyes would not name names but said: "I want a couple more people in, people I have worked with and people who can tell me how this club works.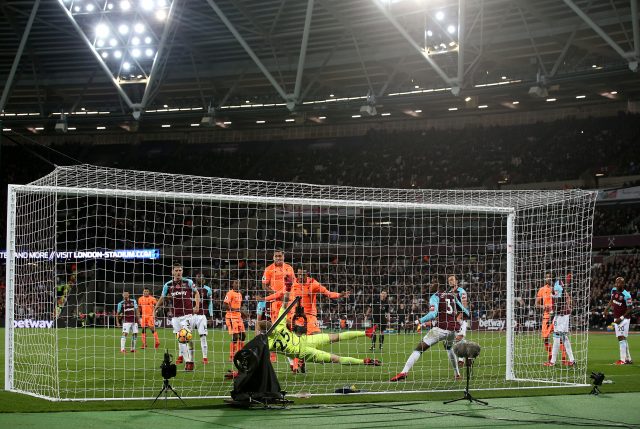 "My message to the fans is just support the players and staff, we are all here to get West Ham in the correct position up the table."
Sullivan and Gold put Bilic out of his misery on Monday morning in the aftermath of West Ham's desperate 4-1 home defeat by Liverpool which left them in the bottom three.
Sullivan told the club website: "This is a unique position for David Gold and myself – it is the first time in almost eight years at West Ham United that we have appointed a new manager during the season.
The #PL table makes happy viewing for @ManCity fans ????#MondayMotivation pic.twitter.com/Ka2ut8Hhzp

— Premier League (@premierleague) November 6, 2017
"We need somebody with experience, knowledge of the Premier League and the players in it, and we believe David is the right man to turn things around and get the best out of the players at the club.
"He is highly regarded and respected within the game, and will bring fresh ideas, organisation and enthusiasm.
"He proved with Everton that he has great qualities and we feel that West Ham United is a club that will give David the platform to display those qualities again."